Tim's Crane & Rigging Safety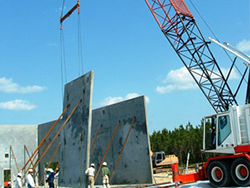 Tilt Panels
Safety for our customers and operators is our number one priority.
Late model machines annually OSHA inspected and certified per OSHA specs.
Operators are required to pass a DOT physical and Drug Screen (new hire, random, accident)
Average Operator has been with Tim's Crane & Rigging, Inc for at least 5 years.
On-site consultations are available for critical lifts.
Worker's Compensation Insurance EMR rating: .81
Member of the Specialized Carriers & Rigging
Association since 1997.
Operators who are badged for nuclear sites
Our operators are Nationally Certified under the standards set by the National Commission of the Certification of Crane Operators (NCCCO).